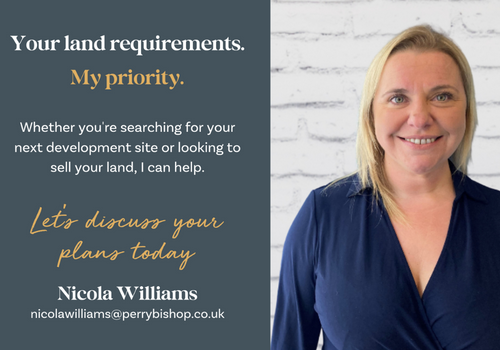 We would like to take this opportunity to update you on our department, to introduce our team and share our focus for 2023.
Heading up the department is myself, Nicola Williams; having worked in the industry for over 20 years I took over the role at the start of the year. My focus lies specifically in Land and New Homes, working closely with local landowners, agents, advising on planning opportunities and supporting developers with their product.
Although Peter Chambers is 'semi-retired' he is still very much part of the Land department. His wealth of knowledge is invaluable, as is his experience of land and conversion sites. We are grateful that the golf course hasn't beckoned and that we can continue to work closely with him on a regular basis.
Emma Nash has worked in the land department for over 5 years and has a wealth of knowledge and experience particularly within the conversion sector. As Perry Bishop are the main sales agent for the Methodist Church, Emma has built up a strong knowledge of the church process as well as a real interest for marketing and delivering the conversion of churches.
Our longest serving team member is Karren Brown, who has worked in the Land and New Homes Department for over 8 years. She is outstanding at the fine detail: creating reports, compiling clear and accurate marketing collateral as well as a superb knowledge of conveyancing and progressing sales.
We are very pleased to share with you our latest Land and New Homes brochure. Advising on land and planning all the way through to marketing and coming to market off-plan – 'Conception to delivery'. Each office has a New Homes consultant so wherever the development you can expect to be fully supported.
With some great land opportunities due to be released this year and some fantastic New build developments going live, our vision for the year is a busy and exciting one. As a local company and a well-appointed department, we pride ourselves on our knowledgeable and successful service, that we offer for both land owners and developers.
Value my property today
Lets get started! Our valuations are based on our extensive knowledge of the whole of the market.
Get a valuation