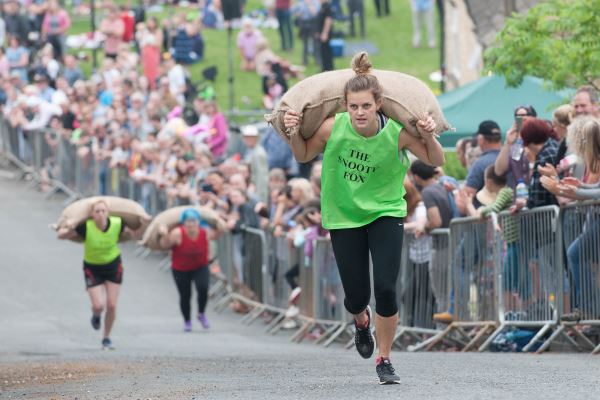 5 things to do over the Bank Holiday Weekend
Five things to do over the Bank Holiday Weekend in the Cotswolds
(courtesy of Cotswold Life)
Gloucester Tall Ships and Adventure Festival
Whether you're a history buff or an adrenalin junkie, there is something for everyone at the award-winning biennial Tall Ships and Adventure Festival, taking place May 25-27. Visitors can sample a slice of maritime life climbing aboard the vintage vessels, you can zipwire across Gloucester Docks or enjoy a Gravity Jet Suit display, plus wakeboarding competitions, food and drink stalls, and much more.
Cheese Rolling at Cooper's Hill, Gloucester
On Monday May 29th, challengers from far and wide prepare to tumble with enthusiastic abandon down the near-vertical Cooper's Hill in an effort to catch a 9lb Double Gloucester cheese. Although the organisation responsible for organising the "official" Cheese Roll withdrew their involvement in 2010, local supporters still ensure this annual tradition goes ahead.
Winchcombe Festival of Music and Arts
This year's festival, taking place from May 20-27th, will feature a record number of artists on the ever-popular Art Trail plus workshops, poetry, talks, a gin tutorial, storytelling for youngsters…all ending with a street fair on Bank Holiday Monday. There's to be a Tudor link this year, with Sudeley Castle recently discovering its long-lost Tudor garden.
Blenheim Palace Food Festival
The Blenheim Palace Food Festival promises a gastronomic weekend (May 25-27) packed with engaging and educational demonstrations from celebrity and local chefs, as well as a multitude of interactive family-friendly activities within the stunning grounds of the palace.
Tetbury Woolsack Races
We are pleased to sponsor Tetbury Woolsack Races, an age-old tradition that continues to this very day, with woolsack races for men and women as well as a street fair taking place on the last bank holiday Monday in May. Competitors, burdened with the heavy sacks of wool, must race across the 240yd course, with Tetbury's undulating Cotswold hills providing an additional challenge.
Value my property today
Lets get started! Our valuations are based on our extensive knowledge of the whole of the market.
Get a valuation