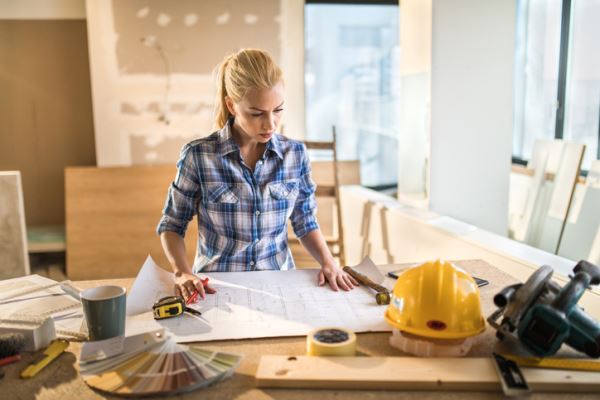 How to cut the cost of your extension project
Building an extension can be a tricky balancing act between creating a space you love and sticking to a tight budget. However, with some careful planning, you can achieve both. Follow these essential tips from three experts to avoid spiralling costs on your project.
Professional advice from: Georgie Noone of Complete Home Development; Leena Tulsidas of Build Team; Katie McPhilimey of Probuild360
Plan ahead
"Careful planning is key to controlling costs," says Katie McPhilimey. "It prevents unnecessary expense further down the line.
"Pay particular attention to mechanical and electrical planning, such as where power outlets and sockets go," she says. "The cost of moving these around later on in the development often catches people out – and can quickly escalate."
Set your own costs
Georgie Noone recommends you establish your own budget right from the start. "It sounds simple," she says, "but going into a project with a realistic and affordable self-budget will make everything else that follows easier."
Allocate budgets
"Be very clear in your contractual agreement exactly how much is being allocated to every aspect of the project," Katie advises. "Even if you haven't yet chosen the worktop, for example, allocate a budget for it.
"This not only keeps you focused on your total spend," she says, "it also helps prevent you from using the money elsewhere – it's spoken for."
Georgie agrees and says, "Once you've employed your design and build professional, the exact budget for your project needs to be agreed, in writing.
"You should be given a full breakdown of costs relating to this budget, as well as a schedule of works, so you know how the project will be run and within what timeframe," she says. "Once a contract is in place, the design and build professional has to deliver the project on budget and on time."
Communicate clearly
Georgie stresses the importance of communication throughout your extension project. "In my opinion, this is the most crucial point," she says. "Communication needs to be open and transparent. You want to understand every step, and any potential unavoidable deviations from the original plan."
If you've employed a project manager, they need to "clearly understand your thought process and react to your changing needs," she adds. "Any changes normally impact on the budget, so they need to be discussed and agreed in writing."
Her advice is to be proactive and inquisitive throughout your project. "Check in frequently, and don't be afraid to question things," she says. "This is your extension."
Don't overextend
We often think bigger is better when planning an extension, but our experts advise caution if you want to stay on budget. "It's important not to overextend and blow your entire budget on the biggest extension," Leena Tulsidas says. "You also want to ensure the costs don't outweigh the profit gained when selling."
She recommends you think about maximising your existing space, too. "While extending your property, you should also consider how the rest of your ground floor will be used," she says. "If you're likely to be left with unused space, you may want to think about how you can use that area efficiently and incorporate it into your extension."
Consider the structure
Leena points out that both the size and design of your extension can impact on structural costs. "If you're building a large or long extension, you may require much larger steel beams to provide the necessary support. The larger the beams get, the larger the costs," she says.
"Speak with your designer or structural engineer to see whether there's a solution that uses shorter steels, or doesn't require as many," she advises. "You can keep this in mind right from the get-go when designing your new space."
Choose wisely
A smart way to stay on budget is to think carefully about which elements you want to spend more on. "There are ways of compromising without necessarily appearing to compromise," says Katie.
"For example, you could select a simple, cheaper kitchen cupboard but choose not to compromise on your worksurface, as this will help deliver the wow factor you want," she says.
"Trust me," she adds, "if the worktop is impactful, no one will even notice the cupboard, which is essentially a box below it."
Work out your windows
Glazing is another area where you can compromise. "This can be an expensive aspect of the build, so use a mixture of aluminium and uPVC cleverly,"Katie advises. "Bifold doors over a certain size should be aluminium, but windows can be uPVC to keep costs in hand."
Leena agrees and says, "It's key to be realistic with your budget, as glass is more expensive than traditional materials, such as bricks and blockwork, especially when working with large, bespoke sizes.
"If you're trying to maximise the amount of glazing while keeping the costs down," she adds, "look into openings and skylights that come in standard sizes. You'd be surprised at the effect a large roof window can have on your room, and, if finished well, it certainly doesn't have to look like the budget option."
Value my property today
Lets get started! Our valuations are based on our extensive knowledge of the whole of the market.
Get a valuation