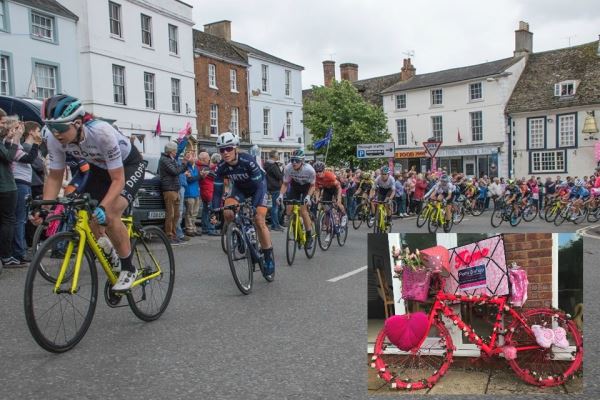 Faringdon is in the pink!
Of one thing you can be certain – when it comes to the Faringdon community, we love quirky!
So when it was announced that Faringdon was on the route of the OVO Women's international cycling Tour, there was absolutely no doubt that the stops would be pulled out to ensure that our lovely little market town was going to give the cyclists a true welcome!
Spearheaded by our Town Crier, the message quickly spread that we would paint the town pink! Businesses and community groups were asked to acquire an old bike and give it a new lease of pink life. Our team's creative minds got bubbling and we raided the local charity shops and then all gathered at Sarah's house one evening with the neon pink spray can and as many pink home accessories as we could find. We were pretty impressed with the result!
As the day approached, there was a definite buzz around the Market Place (outside our office) and also along the route that the tour would take. Nearly 40 bikes were decorated and placed in strategic positions and all the shop fronts in the town were decorated with balloons, flowers, bunting and more!
On the day itself, our ever-eccentric Town Crier donned a pink pigeon outfit and was cycling around the town to the sound of cheers everywhere he went. The entire route was packed with well-wishers, including classes from all three schools, and there was such a wonderful sense of excitement for the entire day.
The cyclists themselves whizzed through the town in a matter of seconds, but we rather hope that we offered them a cheer and a chivvy to help them along the way!
Sadly, Faringdon didn't make the edit for the tour highlights on ITV, but we were delighted to be featured on the Tour website, with a number of local dignitaries being interviewed.
Just another occasion demonstrating the fabulous community spirit that makes us proud to have a branch of PBC in Faringdon!
Gerry Millington
Client Manager l Perry Bishop and Chambers
Value my property today
Lets get started! Our valuations are based on our extensive knowledge of the whole of the market.
Get a valuation