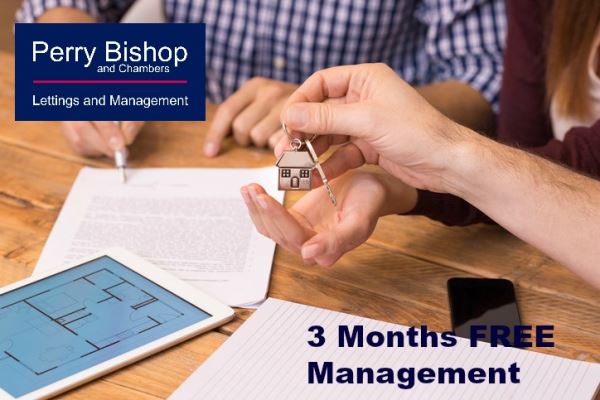 Landlords – Time to call time on your existing managing agent?
Perry Bishop and Chambers' new Lettings and management service has got off to a flying start and our 3 Month Free Management offer is proving popular both with existing landlords looking to transfer management of their portfolio as well as those who have just invested in their first buy-to-let property.
November 2018 saw the exciting launch of this new service across our 5 Gloucestershire branches; Cheltenham, Cirencester, Stroud, Nailsworth and Tetbury and the last few months have proved to be very busy. We have listed various properties within all price ranges and we are delighted to report the successful lets of the majority of these listings, with tenants already moved in. Demand for property in the rental sector is strong and with correct marketing advice, the use of the latest and best technology, professional photography, floor plans and regular landlord/tenant feedback as standard, we are extremely confident of achieving the best rental yield and timescale for our landlords.
We are very pleased with the positive feedback  we have already received from both landlords and tenants. Our experienced and professional lettings team, managed by Tammy Powell, work extremely hard every day to deliver our goal of providing a first-class service to both landlords and tenants alike. Tammy and her team are on hand to advise and guide you through the recent and impending legislation changes and their impact on the lettings industry.
If you are a landlord and you too would like to benefit from our superior marketing and award-winning customer service, we very much look forward to having the opportunity to tell you more about our refreshing approach. We would also welcome the chance to meet with you and offer an up to date valuation of your property/portfolio and talk through our different and exciting service levels.
Please call your local office to arrange an appraisal;
Cheltenham       01242 246980
Cirencester        01285 655355
Stroud                  01453 762306
Nailsworth         01453 836736
Tetbury                01666 504418
First year of Mortgage Interest Relief cuts to kick in:
If previous years are anything to go by, as the 31 January deadline looms, landlords across the country will be frantically preparing to file their self-assessment tax returns for the 2017-2018 tax period. Landlords have previously been able to claim 100% Mortgage Interest Relief (MIR) for rental properties, but this year that has been reduced to just 75% with the remaining 25% of mortgage interest qualifying for 20% tax credit, as the new regime kicks in. The phased reduction, over four years, will see MIR disappear completely by 2020, with 100% of mortgage interest instead qualifying for 20% tax credit.
The change will push some landlords with buy-to-let mortgages up a tax band, despite their income not increasing, as tax will be applied to turnover rather than profit.
All tax returns filed online must be submitted by midnight on 31 January. This payment will be half of the previous year's tax bill, with the other half due by 31 July. If landlords miss this deadline a penalty will be charged, even if they have no tax to pay or have already paid all of the tax they owe. Furthermore if they are late on making a payment, they will be charged interest by HMRC.
For more detailed information on completing a self-assessment tax return, including deadlines and penalties, please visit the GOV.UK website.
Value my property today
Lets get started! Our valuations are based on our extensive knowledge of the whole of the market.
Get a valuation