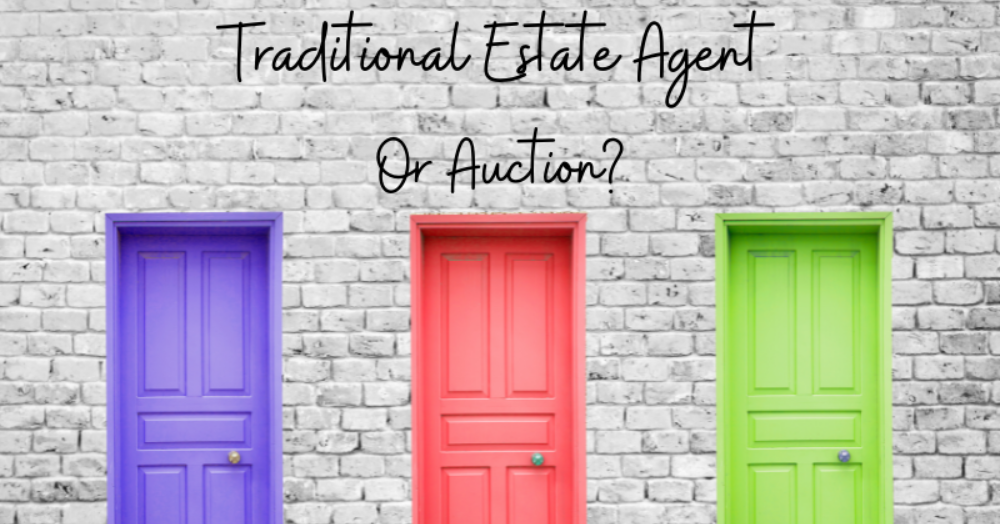 Selling a house at Auction: What are the Pros and Cons?
So, you need to sell your property and you're wondering which is the right path for you. Auctions have their benefits, but so does selling via an estate agent, so which is better for your situation?  If you're wondering whether you should sell your home via auction vs an estate agent, here's an overview of the pros and cons to help you decide.
Selling at Auction
What Are the Cons of Selling at Auction?
Let's get some of the negatives out of the way first. Selling at auction may be quick, but it does come with some risks and downsides, including:
Added fees: There could be added fees when selling at auction that can make it a more expensive option. You'll need to instruct a solicitor to prepare a legal pack before you sell. Plus, you'll need to pay the auctioneer's marketing and commission fees.
Limited buying pool: Buying a property at auction isn't the traditional route, so your buying pool is already limited. Plus, auctions have a reputation for 'hard to sell' or fixer-upper properties, which can attract low-paying buyers looking for a great deal.
It doesn't sell first time: A good auctioneer should drum up interest from the right kind of buyers. If they don't market your property well enough, your property may not sell first-time around.
What Are the Pros of Selling at Auction?
Despite the cons, there are lots of benefits to selling your property at auction, including:
Quick turnaround: Auctions are renowned for their quick turnaround. Usually, they require completion just a month after the winning bid.
Low risk of fall-through: When the gavel hits, your buyer is committed. They pay a hefty deposit on the spot and immediately sign the contracts. Even though they could still pull out, it's highly unlikely.
Inspires competition: An experienced auctioneer can inspire a healthy amount of competition for your property. If this happens, your property could sell for more than you think. However, getting a good deal isn't guaranteed when selling at auction, so be wary of any auctioneer that promises such things!
Selling a Property Via an Estate Agent
What Are the Cons of Selling Via an Estate Agent?
Not cons exactly, but if you are considering the traditional method of sale, there are some things you'll need to take into account:
Estate agent fees: Just like auctions have fees, you'll still have to pay for the services provided by your estate agent.
Security of sale: Good estate agents take measures to prevent gazumping. But, since buyers aren't charged an instant deposit like they are at an auction, there's less security in the sale going through.
Time: Selling via an estate agent can be a quick process. But it's highly unlikely it'll ever be as quick as an auction house!
What Are the Pros of Selling via an Estate Agent?
It all depends on your situation. If you have time to work with an estate agent, it will mean:
Less admin: Estate agents make life easier. They prepare the property listing, take photos, market your home, organise viewings, answer countless enquiries on your behalf and ensure the sale progresses smoothly. Auctioneers can lend a hand, but it won't be as in-depth as an estate agent.
Higher selling prices: Usually, you can get more value when you sell your home via an estate agent compared with an auction. Unlike auctions that have a limited buying pool, everyone's at the table when selling via an estate agent!
More control: Even though you can set a reserve price at an auction, there's no telling how much your property could sell for. Selling via an estate agent gives you full control over the price you get.
Need Help Deciding?
Download our Auction Guide.
We'd love to have a chat with you. Our property experts are here to help you decide which route is best for selling your home.
Give us a call today
.
Value my property today
Lets get started! Our valuations are based on our extensive knowledge of the whole of the market.
Get a valuation