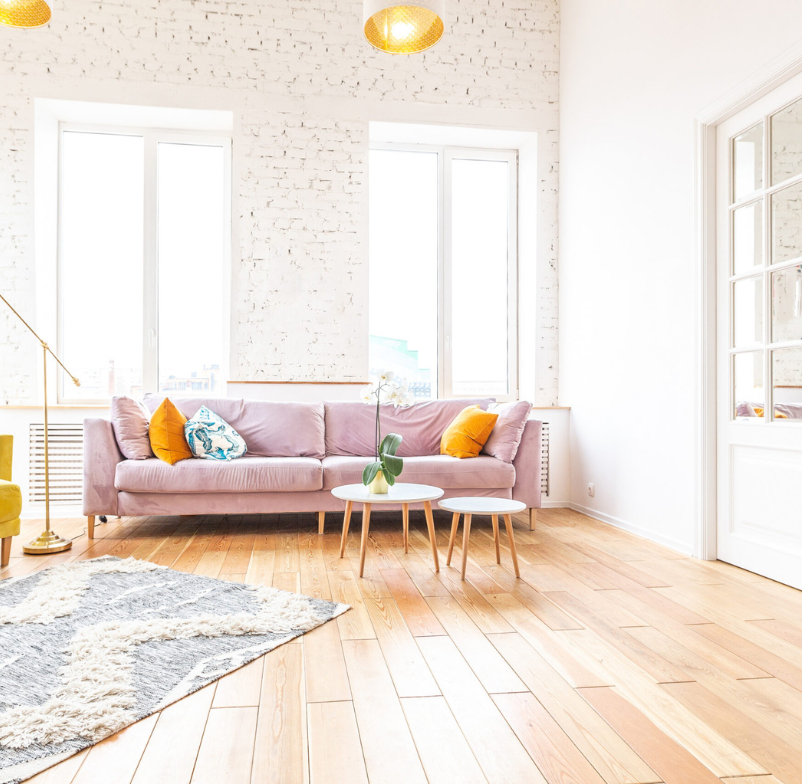 Staging a House on a Budget – Impress Buyers looking for property without breaking the bank
Selling your property is an exciting but often challenging time. To attract potential buyers and secure an offer, you may be thinking of staging a house on a budget! Indeed, to present your home in the best possible light, home staging is a worthwhile consideration.
While professional staging services can be costly, you don't need to drain your savings to make your property stand out. In this guide, put together by our team at Perry Bishop we'll explore budget-friendly tips and strategies for staging your house on a budget when it's on the market, ensuring it appeals to and catches the eye of prospective buyers.
Maximising Kerb Appeal When Home Staging
First impressions are crucial. When potential buyers drive up to your property, what they see from the outside can greatly influence their perception of your home.
Here are some cost-effective ways to enhance your property's kerb appeal:
Tidy up the Exterior – Start by giving your home's exterior a thorough cleaning. This includes cleaning windows and removing any cobwebs or debris. Also consider a fresh coat of paint on the front door as a bright focal point.
Landscaping – You don't need a professional landscaper to spruce up your outdoor space. Trim overgrown bushes, cut the lawn and add some colourful potted plants or flowers near the entrance. These small touches can make a big difference to how your property is perceived.
Lighting – Consider adding outdoor lighting to create a warm and inviting atmosphere, especially for evening viewings. Solar-powered lights along the pathway or string lights on the porch are budget-friendly and visually appealing.
Interior Improvements on a Budget
Once you've captivated potential buyers with your home's exterior, it's time to focus on the interior. Here's how to make your property look its best without spending a fortune:
Declutter and depersonalise – Begin by decluttering your home. For example, remove excess furniture, personal items, and anything that makes spaces feel crowded. A clutter-free environment helps potential buyers imagine their own belongings in the space.
Fresh paint and repairs – A fresh coat of paint can transform a room. Stick to neutral colours like cream, or light grey to appeal to a broad range of buyers. Additionally, tackle any minor repairs such as leaky taps, loose doorknobs, or squeaky hinges.
Rearrange furniture – You don't need to buy new furniture to stage your home effectively. Try rearranging your existing furniture to create an open and inviting layout to make a significant difference. Aim for a balanced and spacious feel in each room.
Staged homely touches that make a difference
To truly impress potential buyers, consider adding some homely touches in order to create an emotional connection with the space.
These small investments below can yield significant returns:
Fresh flowers and greenery – A vase of fresh flowers or a potted plant in the living room or kitchen can add a touch of nature and freshness to your home. After all, who doesn't like a simple and effective way to make the space feel welcoming!
Soft furnishings – Invest in some inexpensive throws, pillows, cushions, and decorative blankets to add pops of colour and texture to your furniture. You can also add patterns with curtains or blinds. These accessories can instantly update the look of a room.
Mood lighting – Good lighting can make your home feel warm and inviting. For example, swap outdated light fixtures for modern, budget-friendly options, and ensure all bulbs are working and emit a soft, pleasant glow.
Marketing your staged Property
Staging your home is just one part of the equation. You also need to effectively market your property to attract potential buyers and estate agents:
High-quality photos – If your budget allows always invest in a professional photography package to showcase your staged home. High-quality images are essential for online listings and marketing materials. Your estate agent will be able to advise you on this.
Detailed listings – Before you sign-off the marketing of your property with your estate agent, ensure the property listing includes engaging, accurate and detailed descriptions, highlighting the key features that make your home stand out.
Open houses and viewings – Allow potential buyers to experience your home in full by creating a welcoming atmosphere. Turn lights on, open windows, light the fire if it's season appropriate and be prepared to answer any questions.
Create a welcoming and appealing environment
Staging a house on a budget is entirely achievable with some creativity and resourcefulness. Remember, it's all about creating a welcoming and visually appealing environment that allows potential buyers to imagine themselves living in the property.
If you are thinking of selling your property or would like help with staging your home, get in touch with our experienced team.
Value my property today
Lets get started! Our valuations are based on our extensive knowledge of the whole of the market.
Get a valuation