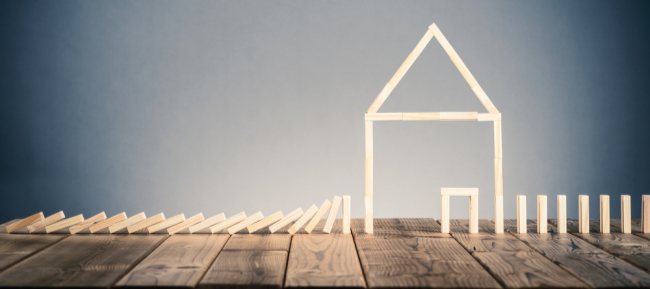 Top five things to avoid when selling your home
1. Don't be too optimistic when setting your asking price
The price you want and the amount the market will pay can be two very different things. Your agent should be able to provide well researched comparable evidence of similar homes within your area which have sold recently when advising you on the pricing strategy before your home is launched to the market. Buyers have so much information at their fingertips now, they will be doing the same research and comparing your home with the one down the road with the more modern kitchen or the larger garden. If your buyer needs a mortgage, the surveyor will carry out the same research.
Not every property can be compared easily with other homes, particularly those that are very old or unique. Overpricing your home can result in it taking much longer to sell. Rightmove research shows that you will get 70% of all your interest in the first 2-3 weeks of marketing. If a buyer is not found within this period, then you will likely need to readjust the price, and may have lost valuable time, or even the best buyer to another property.
2. Do not ignore those niggling repairs and chipped paintwork
Today's buyers live in a very busy world where often a married couple will both be working full time and wanting to spend time with their children while not at work. Many do not have the skills to undertake DIY or the time to find and project manage the various trades they need. New Homes offer an attractive option where they can just move in and unpack, the energy efficiency of the new home will be high and the bills low. So, don't ignore the blown double glazing, or the leak from the bath, the slipped rooftile or the rotting fence. These are all things which may put off your potential buyer or give them an excuse to make you a low offer. But before you spend thousands on a new kitchen or bathroom, check with us first that it will be money well spent.
3. Not preparing your home for sale
The cleaner, less cluttered, and more well-decorated your home is, the more appeal it can have. Clutter can make your home appear smaller and make it more difficult for buyers to picture themselves living in it. Kitchen worktops cleared of clutter will seem larger and more practical. Keep the kettle, toaster and coffee machine and remove the piles of post waiting to be answered and bottles of cooking oils and vinegar. Move the piles of old magazines and books from the sitting room, plump your cushions and move pet beds and toys. Spring clean bathrooms, kitchens and windows and do not forget your kerb appeal. Gardens should be tidy and well cared for – you could even add a hanging basket or pot of colourful flowers by your front door. First impressions are lasting impressions and will tempt buyers into your home if you get it right! Your home's exterior is like the cover of a book, setting the stage for what is inside. If a home is disorganized or appears in disrepair, buyers may be more sceptical about its condition when they are considering an offer
4. Limiting Viewings
Once you have put your home on the market wherever possible let your agent have a key and be flexible allowing your potential buyers to view at a time that is convenient for them. Making this process work for them puts them in a positive frame of mind which will help when they come to making you an offer. Remember some buyers are not able to give good notice, so wherever possible try to keep the house tidy and presented for those unexpected visits! If your house is not easy to show, it may not be easy to sell. While interruptions and added weekend planning may feel inconvenient, a good return on your investment can support your next move.
5. Using poor photographs
Your property photos play an important part in attracting the right buyers. The difference between DIY or an inexperienced agent's images and those taken professionally can make a difference in the time it takes to attract a buyer, and the number of viewings your home attracts.
A good agent will know to choose the very best images to promote your home. In isolation if one photograph would not encourage you to view, then it may not be suitable. A few great images are better than twenty mediocre ones.
If your house is not easy to show, it will not be easy to sell either. While interruptions and added weekend planning may feel inconvenient, just remember the end goal—a good return on your investment that can support your next move.
Selling your home is a major life-changing decision, but it doesn't have to involve aggravation, frustration, or hassle. Steer clear of these classic mistakes and you might close your sale faster and easier than you would have thought possible.
Value my property today
Lets get started! Our valuations are based on our extensive knowledge of the whole of the market.
Get a valuation