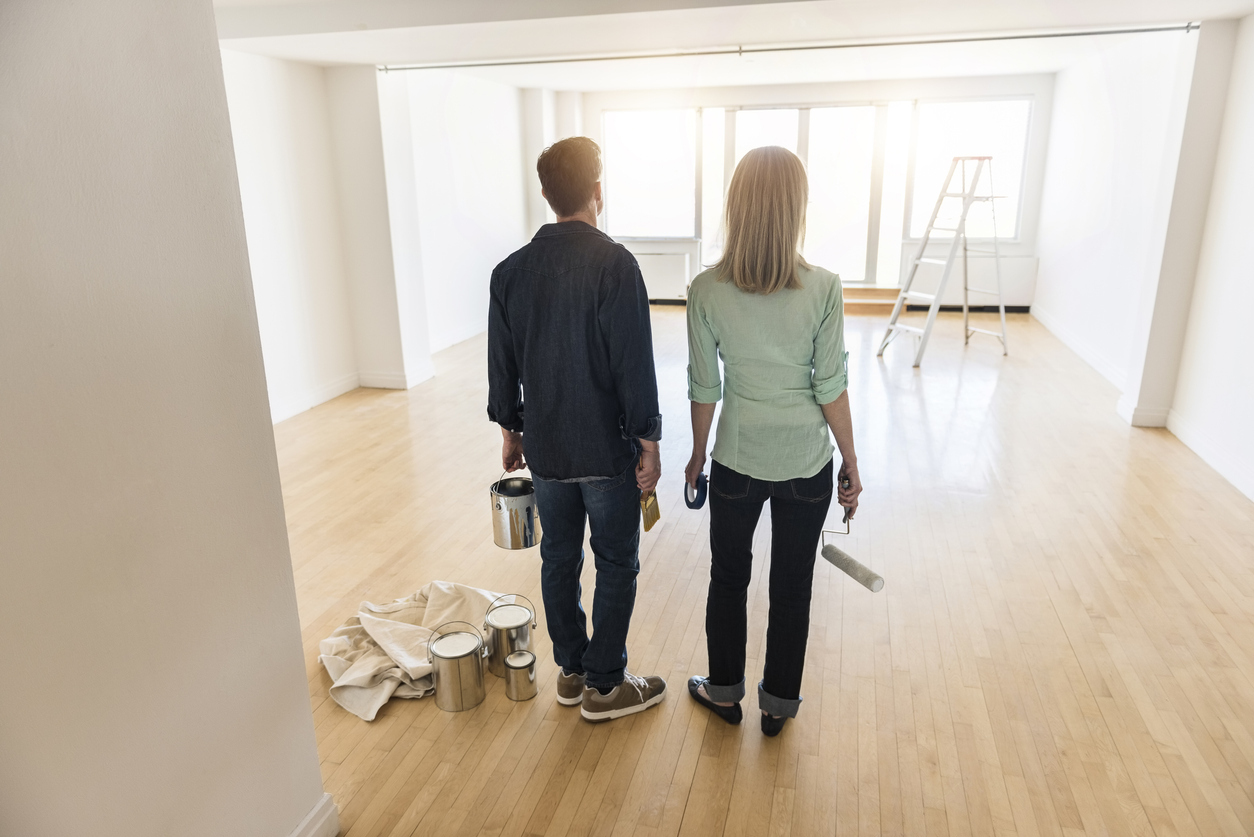 What we've learned about your renovation priorities this year
This year's annual Houzz & Home UK survey has its focus firmly on renovations* – and no wonder, since 46 percent of renovating homeowners are doing or planning work on their homes in 2019.
Beyond that, though, what sorts of homes do you live in and what kinds of changes are you making to them – and why? Are your renovations mainly functional or decorative? Are they to increase your home's value, make them more sustainable – or fill them with smart technology so they function seamlessly? Read on to find out.
* Unless otherwise specified, all results are based on homeowners who renovated their primary homes in 2018 and responded to the Houzz & Home UK survey.
You want a home that makes you happy
With so many uncertainties in the ether affecting our big decisions right now, perhaps it's no surprise to learn that your reasons for renovating are currently more about being happy in your homes than making money.
When asked to rate deciding factors for home improvements, 75 percent of you said you wanted to improve the design, look and feel of your home, while just 38 percent said you were motivated by increasing the resale value.
You love a refresh
You're doing more decorating, furnishing and renovating than you are repairing: a substantial 57 percent of you are planning to decorate this year, while only 28 percent aim to carry out repairs.
Many of you have been waiting a while to get cracking: 33 and 35 percent of you respectively are doing work on your homes now because you finally have the time or the money to do so.
Interestingly, smart tech isn't currently on your radar, with just 13 percent of you saying integrating it into your homes is a priority.
You tend to favour older properties
That so few of us are repairing our homes is perhaps a little surprising, given that the survey reveals a large number of you (22 percent) live in homes built before 1901.
The next most common home (17 percent) falls into the 1961-1980 bracket, closely followed by properties built between 1921 and 1940 (16 percent). Just 4 percent of us live in homes built after 2011.
You're getting greener
We've already talked about how improving the look and feel of your homes is the number one motivation for undertaking projects on them.
Not too far down the list, however, is the desire to improve energy efficiency – with 40 percent of respondents stating that this is a motivation, and 15 percent wanting to integrate green materials. Improving functionality is also a big push and 63 percent rate this as a deciding factor.
Budget is a common bugbear
First up, isn't it good to know you're not the only one who's faced challenges while completing work on a home? But what were the top challenges reported by homeowners during home renovations?
Joint number one, with both challenges felt by 36 percent of respondents, was staying on budget and finding the right professional.
Eating and sleeping matter most
It might surprise you to learn that the joint most popular room to work on is the bedroom. (Could a sanctuary theme be emerging?)
Perhaps less of a surprise, as this tends to be such a hard-working room, is that neck and neck with the bedroom as the most popular room to renovate is the kitchen.
Whether you were working on one room or several, 29 percent of you revamped your kitchen and 29 percent your bedroom, with the bathroom and living room coming a very close joint third at 28 percent apiece.
You're willing to take on nuts and bolts projects
Improving functionality, as already mentioned, is a key push to undertake a project. But what sorts of practical upgrades are you investing in?
1. Indoors, 45 and 42 percent of you respectively upgraded heating and plumbing in your homes in 2018, while 40 percent focused on electrical works.
2. Outside, 32 percent of you upgraded your windows or skylights. 29 percent of you improved your gutters and downpipes, and 28 percent pimped your exterior doors.
3. In terms of the top outdoor feature upgrades in 2018, you might be surprised to discover that, at 28 percent, sprucing up your beds and borders was top of your projects list. Fencing was there, but trailing a little behind at 25 percent, while upgrading patios or terraces came in at 24 percent.
Value my property today
Lets get started! Our valuations are based on our extensive knowledge of the whole of the market.
Get a valuation