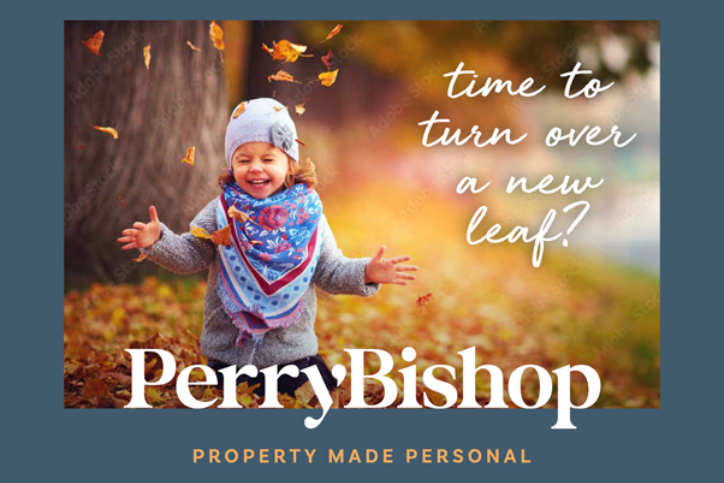 Five Reasons Why Autumn is the Best Time to Sell Your House
If you live in Gloucestershire, Oxfordshire or Wiltshire, autumn could well be the perfect time for you to sell up and move on. Yes, spring is often seen as the best time to sell, but we at Perry Bishop also find that autumn is a particularly buoyant time in the property market. Here are some of the reasons why.
1. Summer's out and a new school year begins
In August, many people's thoughts are preoccupied with lazing in the summer sunshine or going away on holiday. But once holidays and school breaks are over, the start of a new school year often ushers in a desire for a new home.
2. Seasonal scents
Setting the stage for a potential house buyer is crucial in making the right impressions. Remember, you're not just selling a house, you are selling a dream or a lifestyle. That's why autumn is an excellent time to sell your house. The changing colours of leaves, light drizzle and cooling air make it a perfect time to prepare your home. Imagine someone coming in out of the crisp coldness into a cosy house, with autumn fragrances in the air and a display of cherry and brown leaves, fir cones and berries beautifully arranged on a table.
3. Remove the stresses, speed up the process
It's a fact that spring going into summer is traditionally the busiest period for the property sector. This means that all the professional help you need, including removal companies and conveyancers, will be exceptionally busy.
In the Autumn, fewer transactions could result in the conveyancing process being a little faster and you are more likely to get the removal company of your choice and on a date of your choice.
4. Attract serious buyers
In the autumn we always see that it's more serious potential buyers who get in touch. These are the ones who will want to see properties to actually move to – they won't be the time wasters, just having a nose around to see what's happening, with no real intention to buy.
5. Stand out
If your property goes on the market in the autumn, it's more likely to get noticed, compared to the traditional spring influx of properties. This is particularly true when you see how our exceptional photography and video tour will show off your home to its best advantage. Our twilight photography option also works particularly well at this time of year. By standing out from the crowd you will attract the best buyer and achieve the best price
You should see autumn as a season of opportunity, knowing that someone will fall in love with your property. If you're considering a move this autumn, we are here to help. Call your nearest Perry Bishop branch to book your valuation and to find your dream home.
We care about property. We care about you.
Value my property today
Lets get started! Our valuations are based on our extensive knowledge of the whole of the market.
Get a valuation