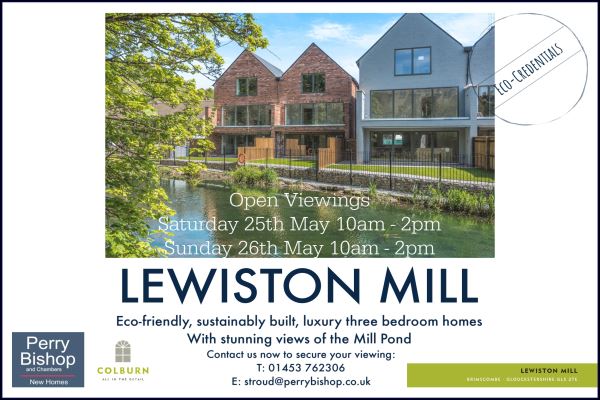 Lewiston Mill – An eye for detail
Townhouses built in the heart of the five valleys. A view of the mill pond. Quiet, calm surroundings. What more could you really ask for?
How about high quality specifications with an eye for detail that for most would simply not cross their minds? A home that is not just aesthetically pleasing but well thought out to make your day to day life easier and more efficient, giving you more time to be you.
Lewiston Mill ticks all the boxes.
So, you've bought the home of your dreams with the open plan living/dining/kitchen area, the sun is shining and bouncing off of the mill pond outside, the patio doors are open and you see the ducks land gracefully on the water. Your friends and family are here for your housewarming party and enjoying a cool refreshing drink. You are in charge of cooking all the food and a nibbles for your guests, thankfully your kitchen has a double oven for you to use. No need to worry about temperatures and timing when cooking for so many.
With your integrated fridge/freezer, you've got plenty of room for food and drinks to be stored, all while keeping your kitchen sides clear of muddles. Who wants muddles when you can look at your shaker style kitchen with under pelmet and plinth lighting?
The sun is starting to set and everyone is having a wonderful time. You are now relaxing in your upstairs living room. With the cool summer air you have the doors open to your balcony. No need to have all the internal lights on as your balcony has down lights, giving you the evening atmosphere you always wanted. Now you can see the stars.
Time for a quick cup of tea before everyone leaves? Your instant hot water tap means no waiting around for the kettle to boil and with your integrated dishwasher cleaning up should be a breeze. With a moment for everyone to appreciate your oak staircase and doors, you say goodbye.
Your guests have all gone home after spending a fabulous day in your new home. Now is your chance to have a long soak in your en-suite bathroom. With the underfloor heating on all you need is a scented candle and your day is complete. Thankfully, you have underfloor heating throughout the downstairs and in both bathrooms. When a warm day brings a cool night, you can be as cosy as you want.
You get your dressing gown out of your beautifully crafted built in wardrobe; no need to be concerned about rummaging through your clothes, having a thoughtfully installed built in light makes your final task a breeze.
Finally relaxed and happy in bed, what is left to dream about when you are already in the home of your dreams?
To make your dream come true contact us now to arrange your viewing. With homes ready, you could be in your new home before the summer.
Stroud Office:
T: 01453 762306
Nailsworth Office:
T: 01453 836736
E: nailsworth@perrybishop.co.uk
Cheltenham Office:
T: 01242 246980
E: cheltenham@perrybishop.co.uk
Cirencester Office:
T: 01285 655355
E: cirencester@perrybishop.co.uk
Value my property today
Lets get started! Our valuations are based on our extensive knowledge of the whole of the market.
Get a valuation