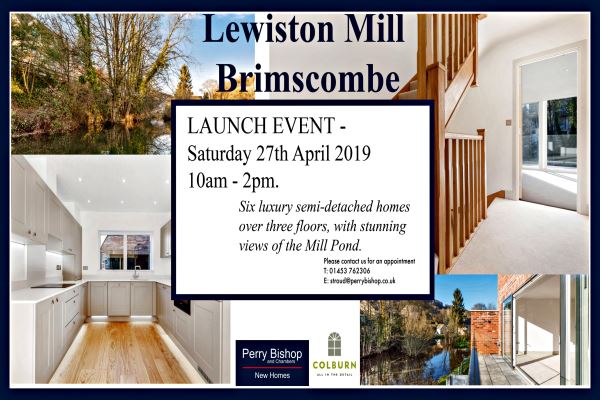 Luxury living at Lewiston Mill
Award-winning developers, Colburn, are about to launch their new Lewiston Mill development in Brimscombe, Gloucestershire. There are six 3 bedroom townhouses overlooking the mill pond and eight 2 bedroom luxury apartments. As well as the new build accommodation available, Colburn are restoring all the existing mill buildings with a mix of commercial, and residential accommodation with the view to creating valuable office space and high-quality accommodation for the Stroud valley. Given the history of the old mill and surrounding buildings, originally built in 1856, there has been positive feedback from the local residents, excited to see the area regenerated.
The Team at Colburn have done all they can to create a sustainable and green development that has a positive impact on the local community. Martin Evans, Managing Director, leading the sustainable vision commented, 'It's great to be regenerating a local landmark building of historic interest, with sustainability and the environment in mind. Our team has worked closely with ecological consultants which has allowed us to offer photovoltaic solar panels, the infrastructure for electric vehicle charging points, a bicycle store, as well as assisting with ecological improvements to the culvert and millpond.'
From the cabinet kitchens and silestone worktops, right through to the engineered oak flooring, it is clear to see that quality is at the core of the Lewiston Mill development. Colburn has a great reputation for building the very best homes, using the finest materials and traditional techniques.
All of the accommodation for sale on the development will be available through the help to buy scheme. If you are looking for further information regarding the development then please contact Perry Bishop and Chambers' Stroud office on 01453 762306 or stroud@perrybishop.co.uk.
Please join us on Saturday 27th April for the official launch of the showhome, from 10am – 2pm.
Call our Stroud team on 01453 762306 to reserve your spot.
Value my property today
Lets get started! Our valuations are based on our extensive knowledge of the whole of the market.
Get a valuation